Articles | Volume 12, issue 9
https://doi.org/10.5194/cp-12-1847-2016
© Author(s) 2016. This work is distributed under
the Creative Commons Attribution 3.0 License.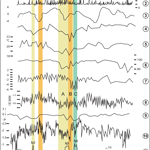 Interactions between climate change and human activities during the early to mid-Holocene in the eastern Mediterranean basins
Abstract. This paper focuses on early Holocene rapid climate change (RCC) records in the Mediterranean zone, which are under-represented in continental archives (9.2 to 8.2 ka events) and on their impact on prehistoric societies. This lack of data handicaps the general interpretation of climate impacts on human societies, which flourished in recent years. Key questions remain about the impact of early Holocene cooling events on the Mediterranean climate, ecosystems and human societies. In this paper, we discuss some examples from river and lake systems from the eastern to central Mediterranean area (central Anatolia, Cyprus, northeastern and northwestern Greece) that illustrate some palaeohydrological and erosion variations that modified the sustainability of the first Neolithic populations in this region. Results allow us to present direct land–sea correlations and to reconstruct regional long-term trends as well as millennial- to centennial-scale climatic changes. In this context, we question the socio-economic and geographical adaptation capacities of these societies (mobility, technology, economic practices, social organisation) during the "early Holocene" interval (11.7 to 8.2 ka), which corresponds partly to the Sapropel 1 deposition in the eastern Mediterranean sea.
Received: 08 Jan 2016 – Discussion started: 23 Feb 2016 – Accepted: 24 Jun 2016 – Published: 12 Sep 2016